All Year Sleeping Bags 2.5 TOG
Our All Year 2.5 Tog Baby Sleeping Bags and Sleeping Bags with Feet are
tested according to Oeko-Tex Standard 100 and can be used all year round
All Season baby sleeping bags - ideal sleeping climate for all year round
Our Slumbersac All Year Baby Sleeping Bags and Sleeping Bags with Feet in 2.5 Tog are suitable for room temperatures of 15-21 degrees and, as the name suggests, you can use these sleeping bags for your baby all year round.
Whether for warm temperatures in Summer or for colder nights in Winter - the all year sleeping bag from Slumbersac is a great choice. 2.5 Tog means your baby won't sweat on warmer nights thanks to the breathable material and will also stay cosy and warm in cooler temperatures (between 15 to 21 degrees). You can find out more about Tog weights and room temperatures in our Tog Guide.
What clothes should my baby wear in a baby sleeping bag?
Depending on the different room temperature in the nursery or parents' bedroom during the different seasons, you should vary the clothes you put on your baby under the baby sleeping bag.
You can find a recommendation in the table below: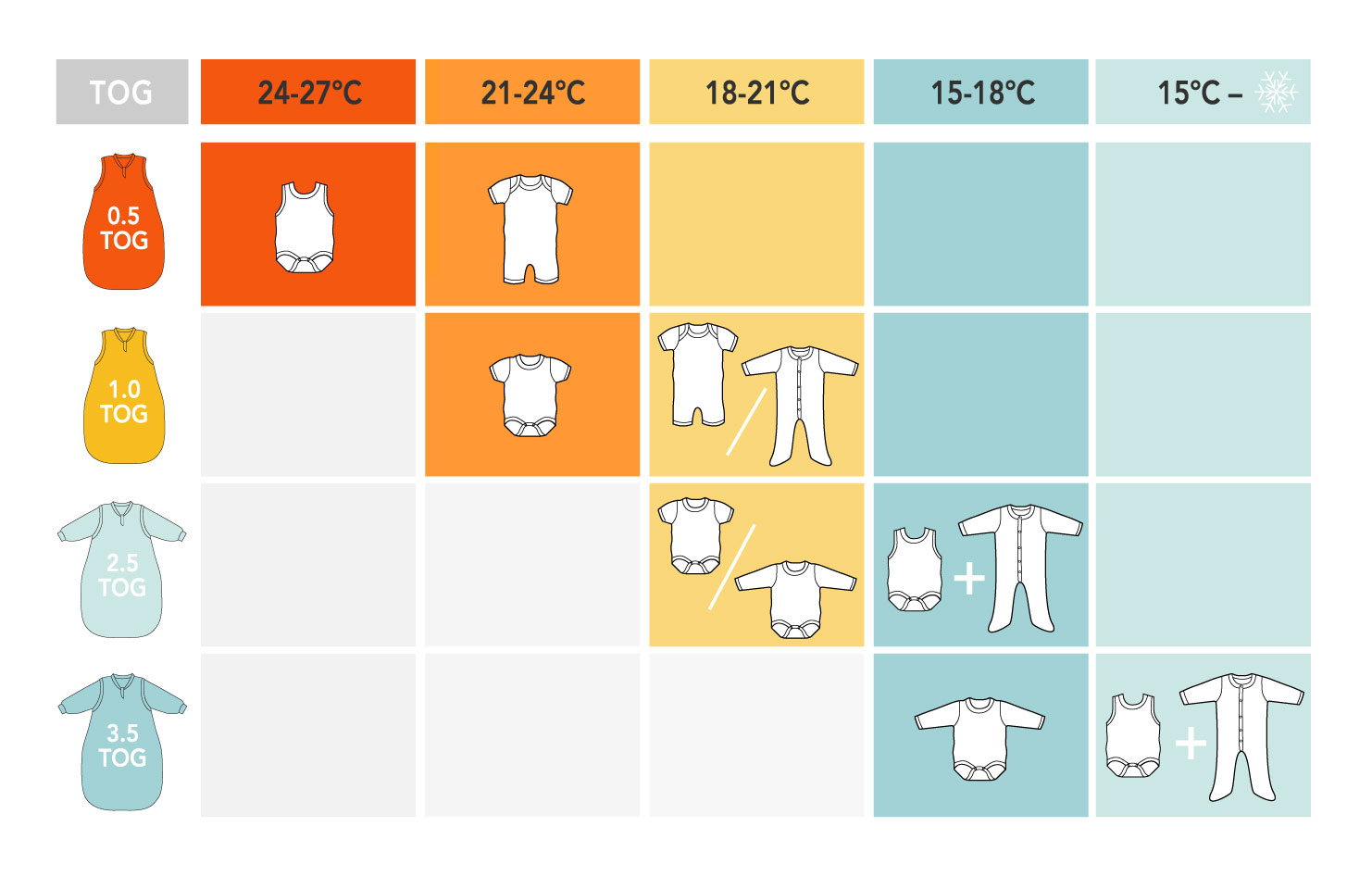 How do I choose the right size baby sleeping bag?
Slumbersac all year sleeping bags can be worn by your child throughout the year. We offer the all-season baby sleeping bags in six different sizes for newborn babies up to 10 year old children.
The sleeping bag must be long and wide enough so that your baby has enough freedom to move and kick. Ideally, your baby's feet should be approximately ¾ of the length of the sleeping bag.
Our Size Guide shows you which baby sleeping bag is suitable for your baby's body measurements. Be sure to follow the rule of thumb: grow out, don't grow in (ie, don't buy a large one that they can grow into as this can be dangerous).
It is important to pay attention to the size of the neckline and armholes so that your baby cannot slip into the sleeping bag, as would be the case with a neckline that is too large, and so that there is no danger of strangulation due to a neckline that is too narrow. There is also a rule of thumb for this - the neckline should be about big enough to fit a finger between the neck and the neckline.
The armholes should also fit the size of the sleeping bag - armholes that are too big cause more heat loss and there is a risk that your baby can slip into the sleeping bag while sleeping.
Up to age 36 months, Slumbersac baby sleeping bags have practical and secure press studs on the armholes to ensure your little one has a safe and secure fit.
Please refer to our Sleeping Bag Size Guide for further information on which baby sleeping bag you should buy, depending on your child's length and weight. Please note that our footed sleeping bags are generously sized so we do not recommend buying a larger size than you need.
Why Slumbersac? The advantages of Slumbersac all-year sleeping bags at a glance
We have a fantastic range of sleeping bags to choose from, in various fun designs, sizes and togs for girls and boys.
All Slumbersac sleeping bags are rigorously tested according to Oeko-Tex Standard 100 and are, therefore, free from harmful substances.
We source high quality materials that are particularly easy to care for and all of our sleeping bags can be machine-washed and tumble-dried.
Slumbersac baby sleeping bags and sleeping bags with legs are made from 100% cotton, making them super-soft and ideal for sensitive baby skin.
We pride ourselves on providing you with excellent customer service and are on hand to answer any questions you might have relating to your purchase. Please feel free to contact Slumbersac Customer Services about any questions you might have.
Remember, we don't just offer sleeping bags for your little one... we also have lots of useful baby equipment and baby clothing, and you can also find beautiful and practical gifts for babies at Slumbersac.